We are excited to announce that Mike Holmes has is partnering with Kinetico Water Systems as a spokesperson, and offering Kinetico products to his Holmes Approved Products family.
ABOUT MIKE HOLMES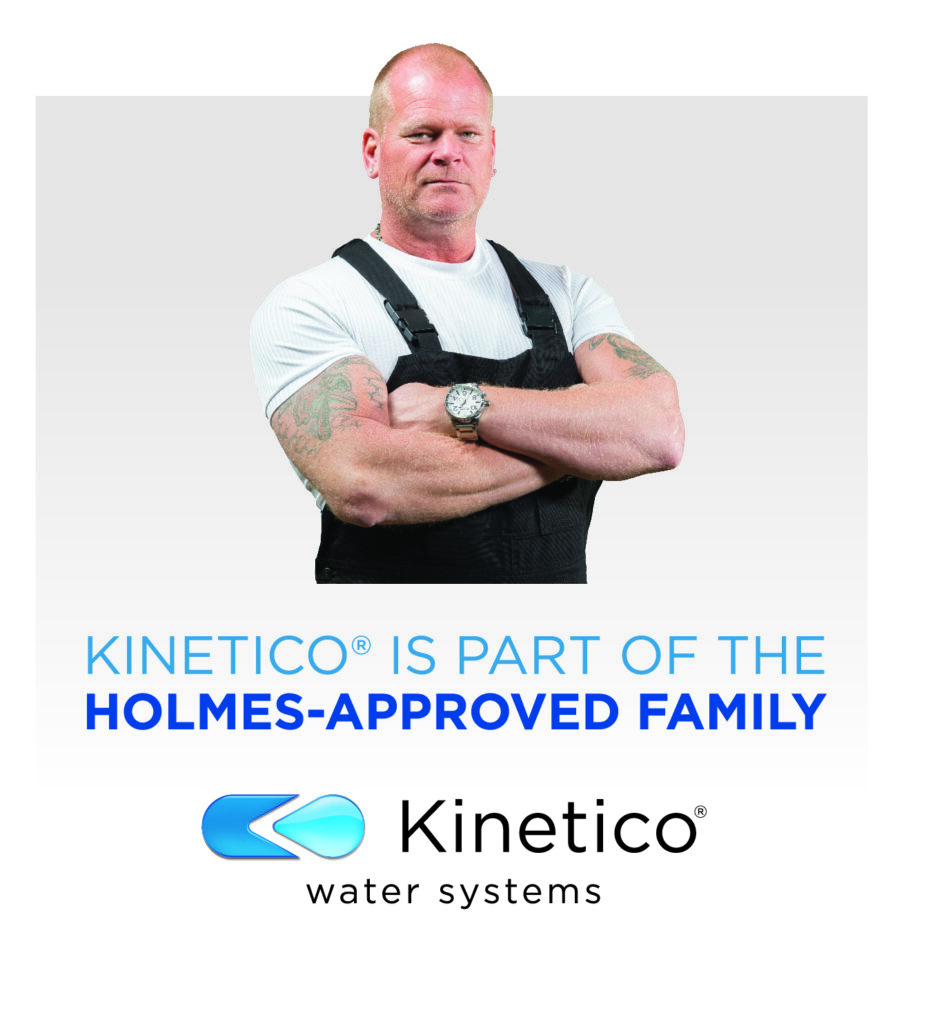 Mike Holmes is a Canadian builder/contractor, businessman, investor, author, philanthropist and television host who has had international success. In his first television series, Holmes on Homes, he rescues homeowners from renovations gone wrong. He usually discovers more serious problems, such as dangerous wiring, asbestos, mold, inadequate insulation, structural damage and more, concealed behind pristine surfaces. He and his team promise to "Make It Right," even if it means stripping a house down to its bones. He has continued in several successive TV series; the most recent one is Holmes and Holmes.
Mike Holmes is a professional contractor and the host and creator of the hit TV series Holmes on Homes, Holmes Inspection, Holmes Makes It Right and Holmes and Holmes. He was named the Second Most Trusted Canadian by Reader's Digest, Forbes' Third Most Trustworthy Celebrity and the Eighth Most Trusted Public Name in America. After working in the building and renovation industry for more than 20 years, Mike Holmes was asked to develop and host his first television series, Holmes on Homes, which became an international success and broke ratings records, solidifying Mike's career in television. With more than 30 years' experience as a licensed contractor, Mike Holmes has been able to use television as a tool to help educate homeowners including how to manage a renovation, what to look for in contractors, the right products for the right job and proper home repair and maintenance. www.makeitright.ca
WHAT IS THE HOLMES APPROVED PRODUCT PROGRAM
The HOLMES Approved Products program was designed to help homeowners choose products that support a healthy home and safety. Reports show that more and more consumers are concerned about the quality of the water they use and consume in their homes. As a part of the Holmes-approved family, Kinetico's line of reliable and customizable water softeners, drinking water systems and specialty filters will be recognized for their ability to improve water quality for drinking and cooking, use around the home and in water-using appliances.
"I've noticed that many people ignore their water unless it's causing a visible problem. But having good, clean water impacts the quality of their lives. More and more people seem to understand that and are interested in improving their water now. Kinetico can help." – Mike Holmes
WHY MIKE ADDED KINETICO TO THE 'HOLMES APPROVED PRODUCTS' FAMILY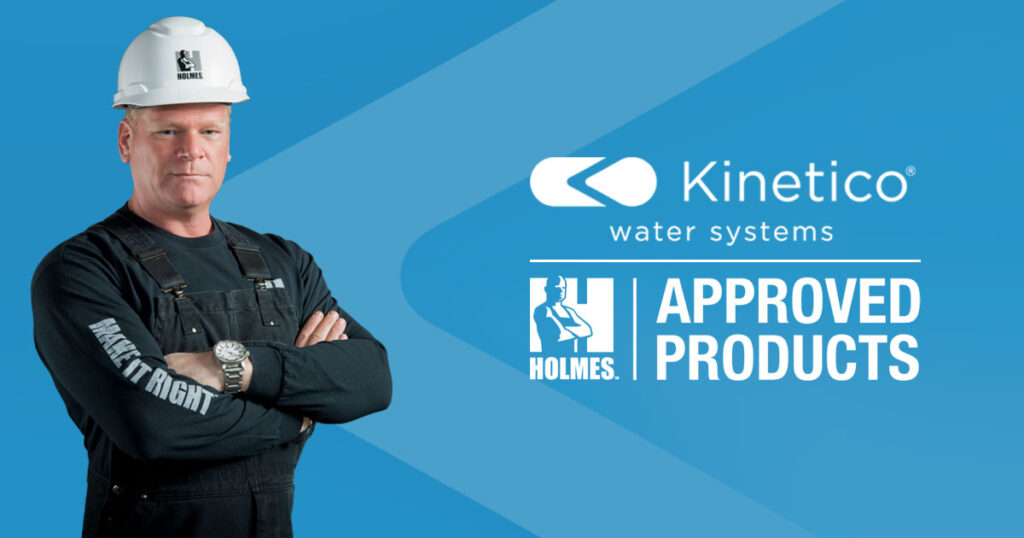 "I've talked for years about building better, building smarter and today especially, about building healthier. Kinetico is the perfect fit for what I do. I want people to be aware of what's in their homes and how to improve and protect these things, like their water." – Mike Holmes
Working with Kinetico, Mike will help homeowners understand the importance of having their water analyzed by a water professional, and then leading them to Kinetico for reliable and customized water treatment solutions. Mike doesn't stand behind just any product. He chooses products of the highest quality that will improve a home's value. That's why Mike has Kinetico products in his own home and recommends them to others.
"I want people to be aware of what's in their homes, and how to improve and protect these things – like their water. I am excited to partner up with Kinetico to help homeowners understand the importance of having their water analyzed and diagnosed by a water professional and then lead them to Kinetico's reliable and customized solutions to treat their water." – Mike Holmes, Professional Contractor and TV Personality

– Mike Holmes, Professional Contractor and TV Personality

WHY DID KINETICO PARTNER WITH MIKE

With the growing number of consumers interested in water quality, Kinetico was looking to find a partner to help educate consumers about the importance of improving their water. Mike Holmes was a natural choice for Kinetico.
"Mike looks for best-in-class, quality product solutions. He is committed to doing things right and improving lives with better water which all closely align with Kinetico's values,"

– Beth Allison, Kinetico Marketing Director – North America
Kinetico has partnered with Mike Holmes to help you understand how to make your home's water right. Water is used in nearly all aspects of the home and many of our daily tasks. There's water that we cook with and drink, and there's water that we use to clean, bathe and perform other household tasks. Your home's water quality has an impact on all of these activities. Poor water quality can make your foods and drinks taste bad. It can cause water pipes, water heaters and other appliances to deteriorate faster.
That's why Mike has a Kinetico whole-home water treatment system and reverse osmosis drinking water system installed at his home, and he loves it. Mike has great water quality with Kinetico, and you can too!
WHY CHOOSE KARSARE WATER SYSTEMS
Karsare Water Systems serves the Kentucky and Southern Indiana area and is one of the 300 authorized, independent Kinetico dealers in North America offering Kinetico water softeners, drinking water systems and specialty water filters. Home and business owners in the KY & IN area can request a free water analysis to learn more about their water and how to solve their water quality issues.
ASK MIKE HOLMES VIDEOS:
Mike answers questions and addresses water issues from real life homeowners in these 2 part videos:
WHICH KINETICO PRODUCTS ARE PART OF THE HOLMES APPROVED PRODUCTS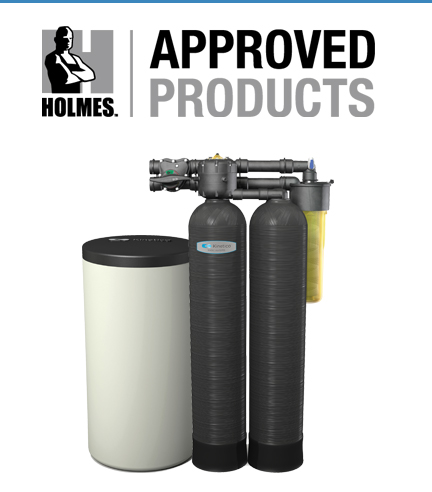 Kinetico Water Softeners
Eliminate spots and scale from hard water
Protect plumbing and water-using appliances
Save money on soaps and cleaners, reduce time spent cleaning
Have softer, smoother hair and skin
Kinetico Drinking Water Systems
Unlimited supply of high quality water made in your home
No need for bottled water, saving you money
Customizable filtration to meet your particular water concerns
The Kinetico K5 reduces more contaminants than comparable drinking water systems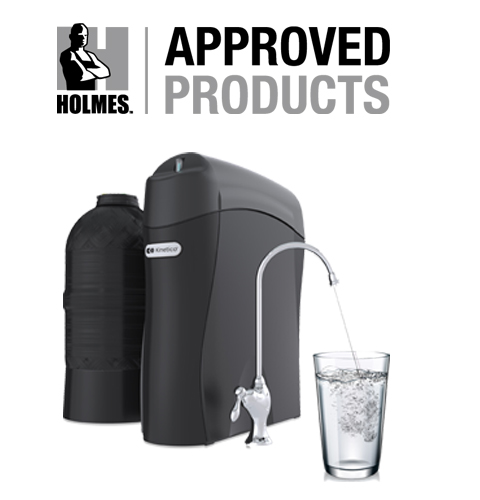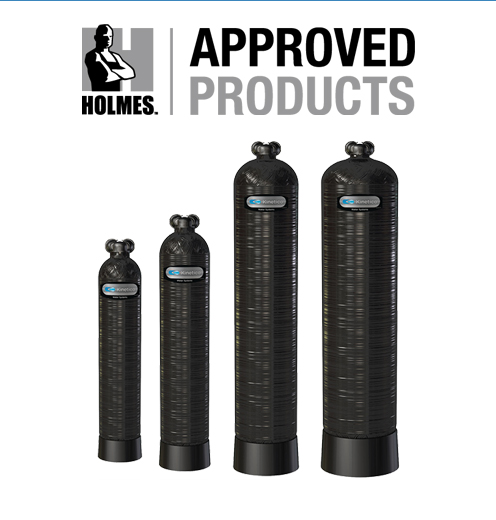 Kinetico Specialty Water Filters
Reduce chlorine and chloramine levels in your water
Reduce iron and manganese levels in your water
Reduce arsenic levels in your water
Reduce scale causing minerals in your water
VIDEO INTERVIEW:
Mike Holmes is thrilled to get clean water in his home through the Kinetico water solutions that are being installed at his house from the team at Kinetico. The team at Kinetico explains the process of how Mike will be getting clean water, why there might be hardness in water, and some of the unique technologies that come with this install.