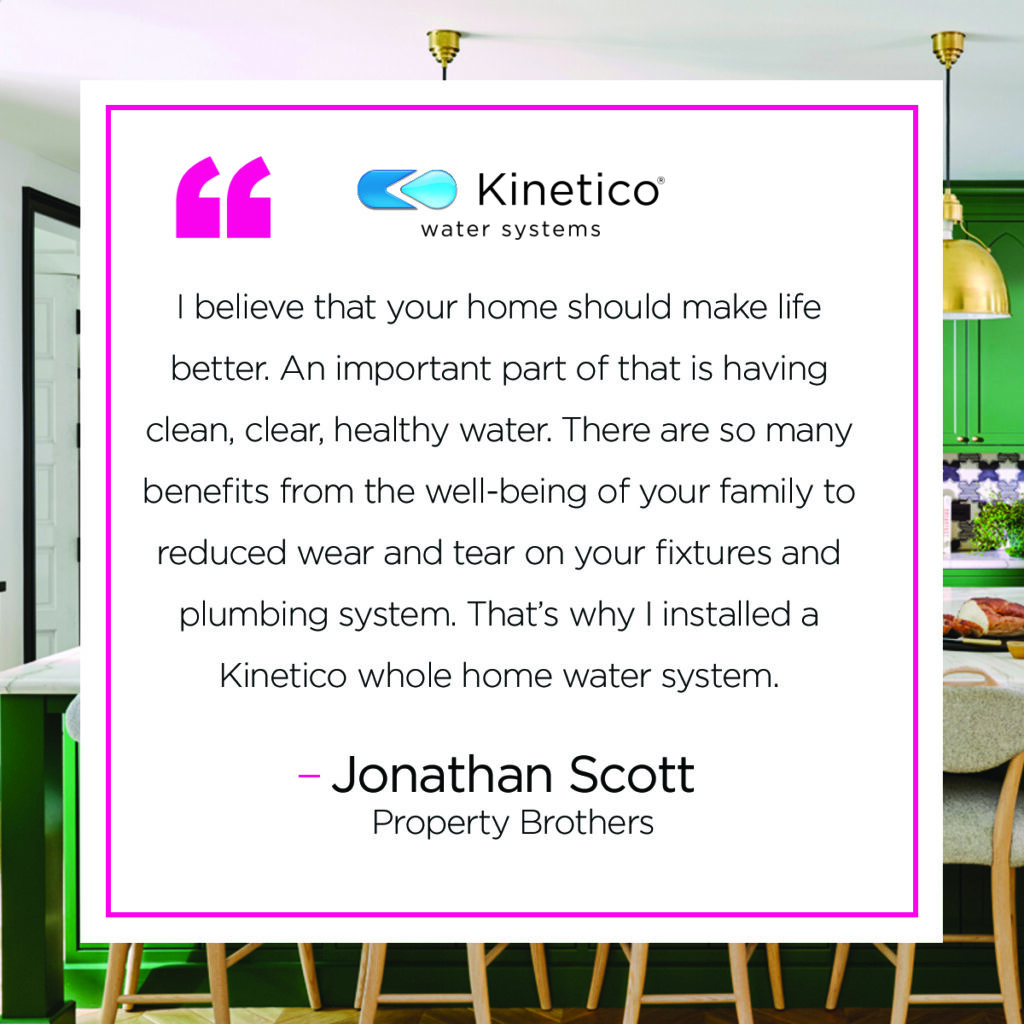 We are super excited to reveal Kinetico's connection with Jonathan Scott – one of the Scott Brothers of Property Brothers fame. That's right, Kinetico was selected as the water treatment provider for Jonathan Scott's publicized "Park House" renovation. Jonathan Scott was concerned about the quality of the water in the home he recently purchased. Doing his homework, Jonathan discovered Kinetico and approached us about installing a whole house water treatment system during the major renovation of his and Zooey Deschanel's home and guest house in LA. In the main house, Jonathan has a CP213SOD, three 1175
dechlorinators and two K5s. The guest house has a CP210sOD, two dechlorinators and two K5s.
This year, the renovation project has been featured in Drew + Jonathan Reveal Magazine, a lifestyle quarterly magazine. Kinetico is also listed in the Resource Guide for the home renovation, and our products have been highlighted in some of Jonathan's vlogs and social posts. Jonathan is so thrilled with his Kinetico water, he wants to help us spread the word about Kinetico and the importance of water treatment.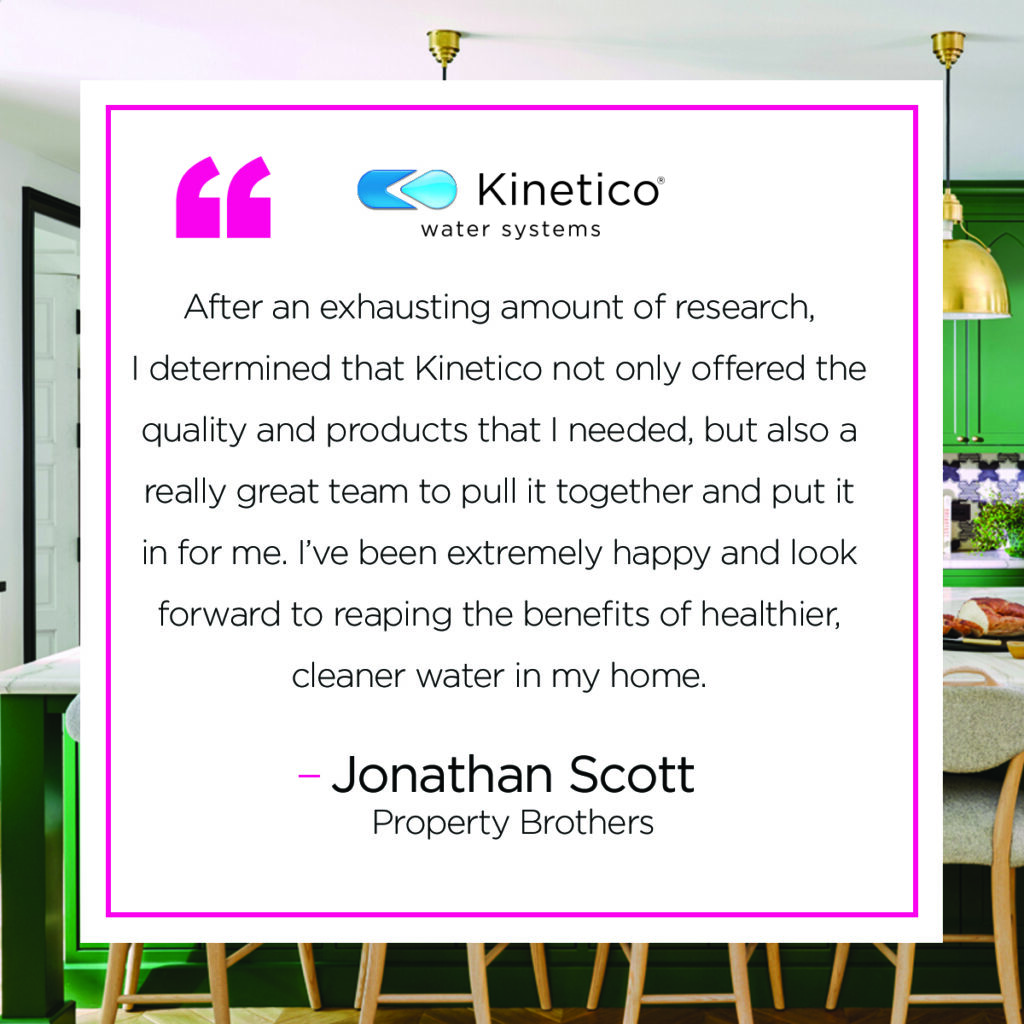 Why did Jonathan choose Kinetico?
"I believe that your home should make life better. An important part of that is having clean, clear, healthy water. There are so many benefits from the well-being of your family to reduced wear and tear on your fixtures and plumbing system. That's why I installed a Kinetico whole home water system."

"Water quality is always top of mind for me and I'm not the type of person to settle for anything but the best. That's why I chose a Kinetico water system for my home."

"After an exhausting amount of research, I determined that Kinetico not only offered the quality and products that I needed, but also a really great team to pull it together and put it in for me. I've been extremely happy and look forward to reaping the benefits of healthier, cleaner water in my home."

Quotes from Jonathan Scott of Property Brothers
About the CP Series Water Softeners (CP213s, CP216s, CP210s OD)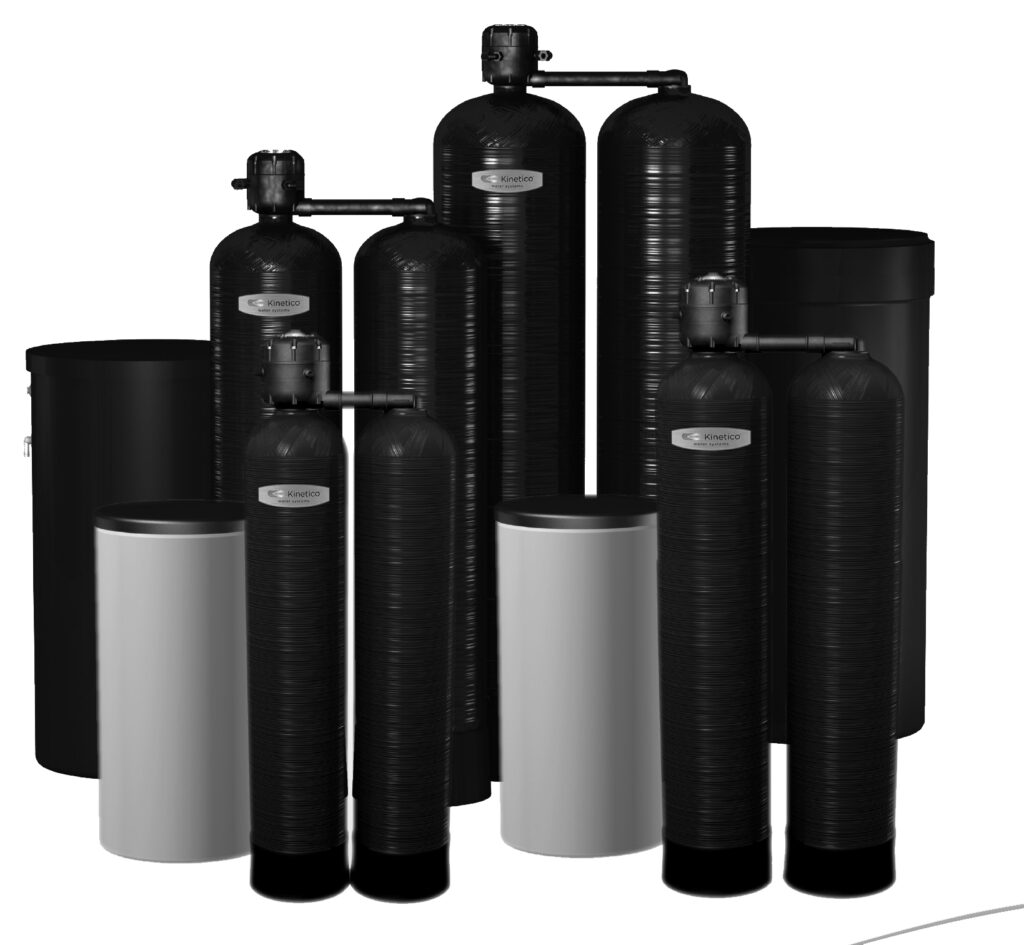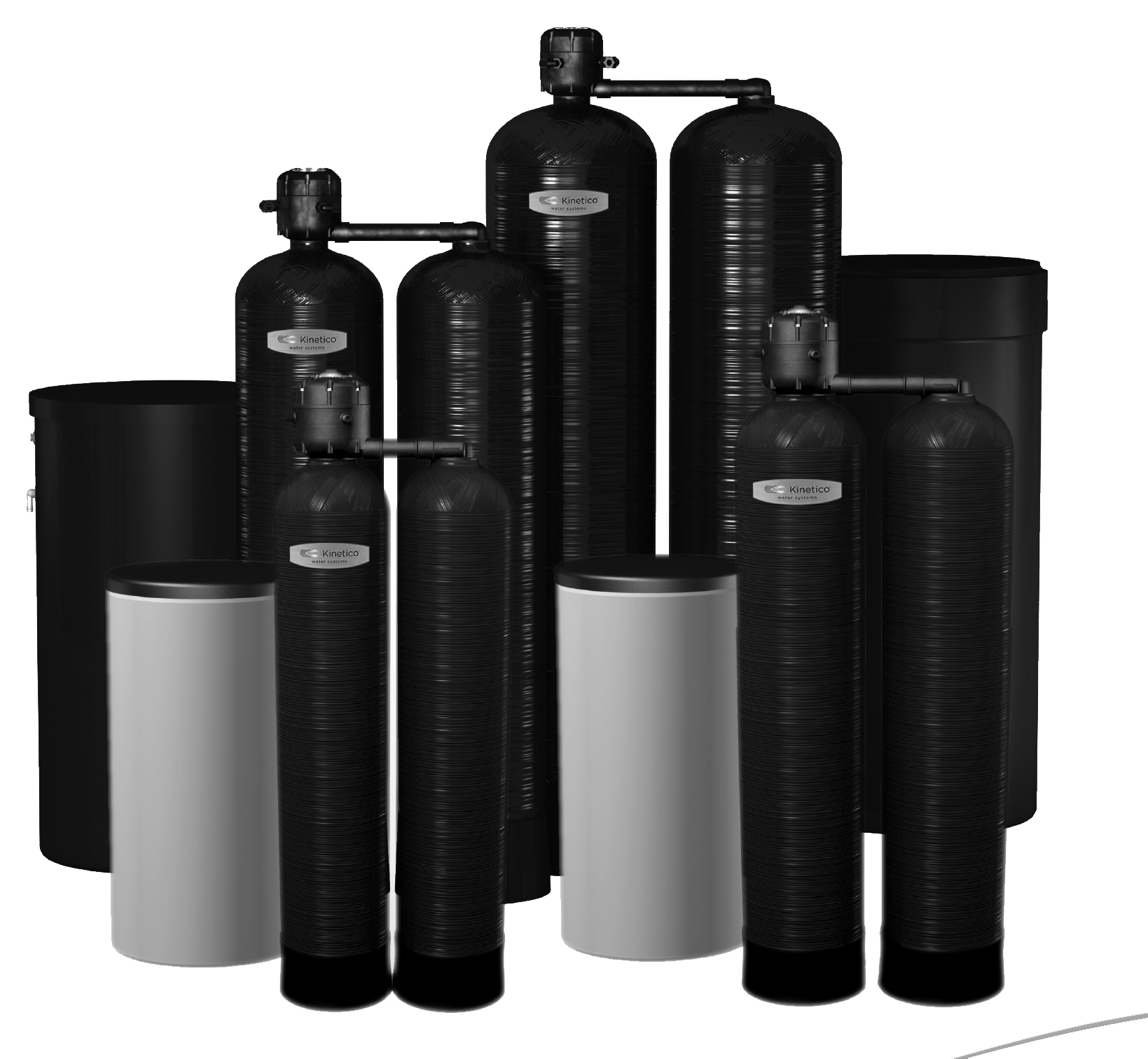 Kinetico's commercial softeners are highly advanced in design to offer flexibility in both set-up and operation. This flexibility enables the systems to operate in either an Overdrive configuration, for maximum flow, or in an Alternating configuration, for maximum efficiency.
Non-electric. Powered by the kinetic energy of moving water. Reliable no timers or computers to set, adjusts, repair or replace.
Metered Regeneration. Eliminates guesswork and regenerates based on actual water usage resulting in minimal salt use and maximum water efficiency.
Twin Tank Design. Continuous and uninterrupted supply of soft water even during regeneration.
Countercurrent Regeneration. Recognized as the most efficient regeneration method. Conserves water and salt, while eliminating hardness breakthrough.
Soft water regeneration. Operates only with 100% soft water which prolongs the life of the system.
Optimal Salt and Water Efficiency. Low water consumption. Less money spent on salt.
Corrosion-Resistant Valve and Tanks. Long lasting and can endure even the harshest environments.
CP213s tank size:  13″ x 54″.  Regeneration Time / Volume:  90min / 142 gallon.
About the Kinetico Dechlorinator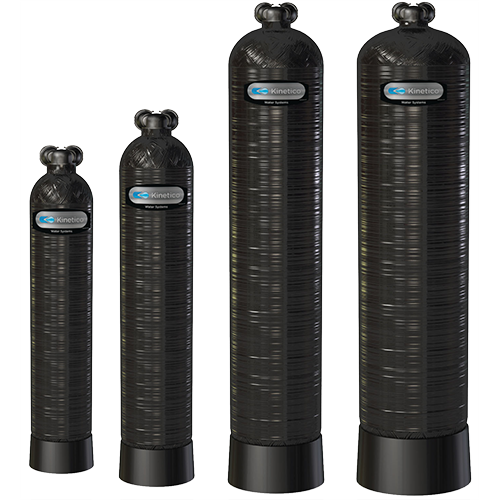 Simple, Yet Effective: Our single-tank unit is a simple solution for whole-home chlorine removal. It's the perfect addition to a Kinetico water softener installed on a chlorinated water supply. Maximum performance providing the highest quality water for your home.
Chlorine-Free Water: The system provides chlorine-free water to every faucet in your home, while also protecting your water softener from the harsh effects of chlorine.
Single Tank: The single-tank Dechlorinators are ideal for homes with lower water flow demands.
About the K5 Drinking Water System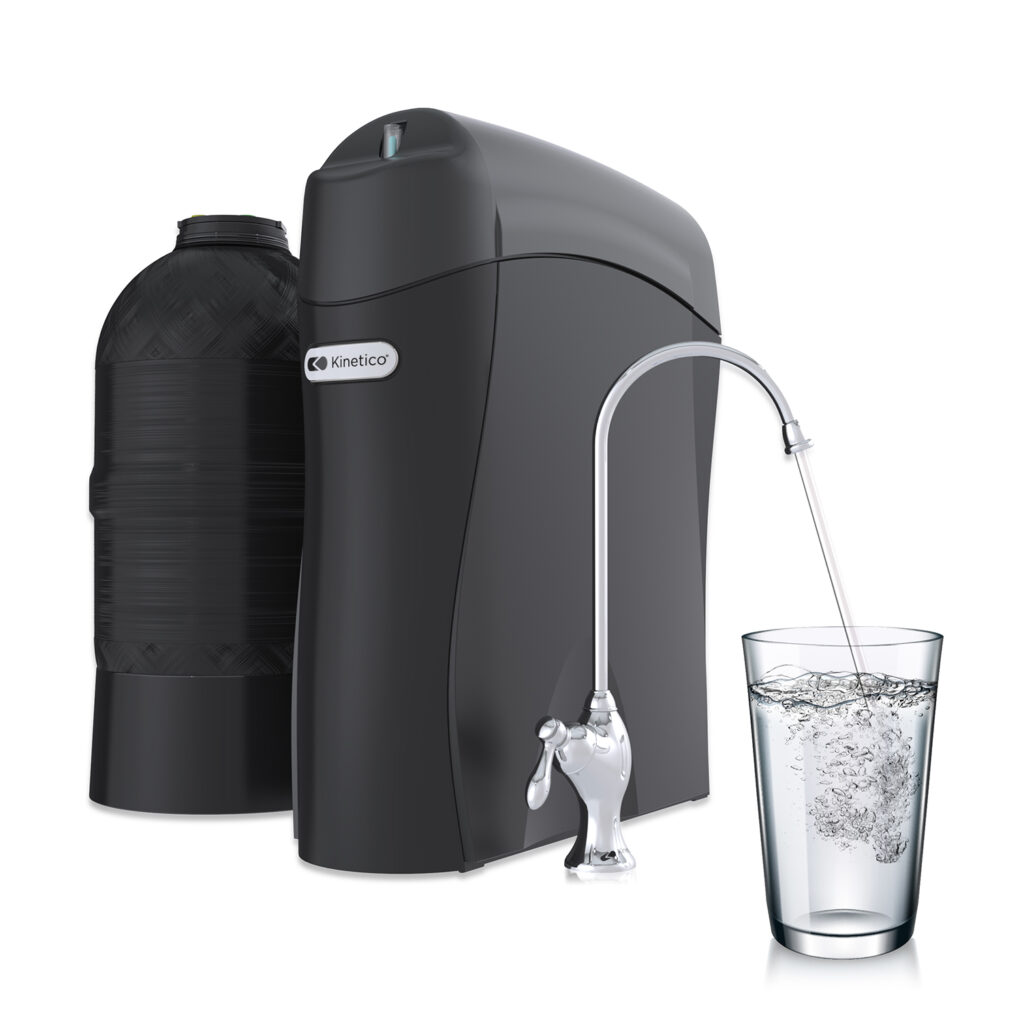 Kinetico designed this state-of-the-art reverse osmosis system to solve even the toughest water quality challenges.  The K5 is smartly designed to be convenient and economical, provide an abundant supply of high-quality water, be easy to use and maintain, and provide the best-tasting water. When you own a K5, you know you are doing all you can to provide your family with the highest water quality at the best price.
Purefecta Protection: No other water treatment system provides you with as much protection against arsenic, nitrates, lead, fertilizers, pesticides, chlorine, taste, odor and a host of other contaminants.
Improve your protection by adding the Purefecta Virus/Bacteria Guard, which reduces greater than:
99.99% of viruses
99.99999% of bacteria
99.999% of protozoa/cysts
QuickFlo® Technology: The K5 features QuickFlo® technology to deliver a strong, steady stream of high-quality water when you want it. Fact is, the K5 produces more water faster than any other comparable system so you won't need to ration or wait for your water.
Featured on Holmes Family Rescue: The Kinetico K5 Drinking Water Station® is featured on Holmes Family Rescue, a TV show where Mike Holmes, his daughter Sherry and son Michael help homeowners with botched construction jobs or renovation fatigue. Kinetico is proud to work with Mike Holmes to help families improve their drinking water.
Consumers Report Best Pick: The Kinetico K5 Drinking Water Station is part of the Water Filters test program at Consumer Reports. In our lab tests, Reverse Osmosis Water Filters models like the K5 Drinking Water Station are rated on multiple criteria.