The signs you may need a water softening system in your home or business may include:
Feeling a film on your hands after washing them. This is caused by the soap reacting with calcium to form soap scum. You may need to rinse your hands longer if the water is hard.
Spots. These can appear on glasses and silverware coming out of the dishwasher. These are usually deposits of calcium carbonate.
Mineral stains. These show up on clothes when they come out of the washing machine. Clothes can wear out faster because of the harshness of hard water.
Less water pressure in your home. Mineral deposits can form in the pipes, essentially shrinking the interior diameter of the pipes and reducing water flow.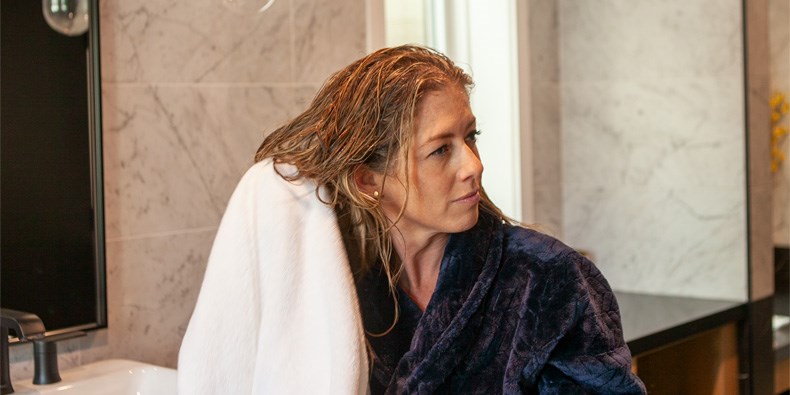 What is the difference between hard and soft water?
The hardness of water is determined primarily by the amount of calcium and magnesium it contains. Higher levels of these and other minerals make water hard. Water softening systems work by reducing the concentrations of minerals from the water. Instead of having higher levels of calcium and magnesium, soft water tends to have higher concentrations of sodium, or salt.
Are there any health risks associated with hard water?
There are no serious adverse health problems associated with drinking hard water. However, hard water can contribute to dry skin and hair. Washing your hair frequently with hard water can leave your scalp feeling itchy. The minerals in hard water can also change the pH balance of your skin, weakening it as a barrier against harmful bacteria and infections. People with eczema may be especially vulnerable.
What is a Water Softener and what does it do?
A water softening system transforms hard water into soft water which protects your home, many of the things in it and you from the harmful effects of hard water. How it works is somewhat simple. Hard water enters a water softener, and when it exits the softener, the water is soft. Traditional, salt-based water softeners operate in two ways: with and without the use of electricity. Traditional water softeners use a process called ion exchange to remove hardness minerals in the water. Some of the benefits of water softener include:
Prevents build-up of minerals (scale) on the inside of pipes, fixtures, and hot water heaters.
Lengthens the life of some appliances. R
educes or prevents mineral spots on glassware.
Prevents or reduces soap films and detergent curds in sinks, bathtubs, and washing machines.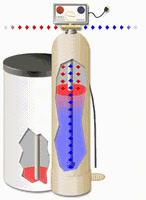 How does an Electric Water Softener work?
Electric water softeners are water softeners that use electrical parts to initiate a regeneration. Most often, electric water softeners are single-tank systems. An electric water softener system uses a timer to track how long the system has been in service or how long it's been since the last regeneration. At a pre-determined time, the system will regenerate or clean itself. This will happen whether or not the system needs to be cleaned. If the system needs to be cleaned before the pre-determined time, it has to wait, so your house will have hard water until regeneration time.
How does a Non-Electric Water Softener work?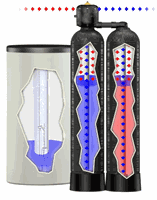 A non-electric water softener does not use electricity to regenerate. Non-electric water softeners can be found in single-tank and multi-tank systems. A non-electric water softener doesn't use a timer to regenerate or clean itself. Instead, a non-electric water softener uses a mechanical water meter to measure water usage. The system calculates how much water can be softened before it needs to regenerate, so it regenerates on-demand, when needed.
What are the Pros and Cons of each type of Water Softening System?
Obviously, an electric water softener requires electricity, whereas a non-electric water softener does not, but that's not the only difference. A non-electric water softener does not need to be located near a power source, so finding a good spot to install it is easier. In the event of a power outage, a non-electric water softener can still provide your home with soft water. And as the old saying goes, water and electricity do not mix. When possible, it is best to keep water away from electricity and electrical components to prevent any potential problems.
Since electric softeners use a timer to regenerate, a predetermined regeneration time is established, which may or may not be when the water softener needs to regenerate. Unless you use the same amount of water every day, it could regenerate too early or too late. A non-electric water softener regenerates after the system reaches its softening capacity, so it regenerates only when it needs to. This eliminates water waste, saves you money on your water bill if you have city water, and ensures you won't have hard water breakthrough.